Technology
Made in Germany
Formula 2 Drive is another example of German engineering which provides drivers with optimum vision in traffic. In contrast to most of the competing products on the market, we have optimised not only the anti-reflection coating but also the design and the material. We are therefore confident that we have developed the ideal lens for driving.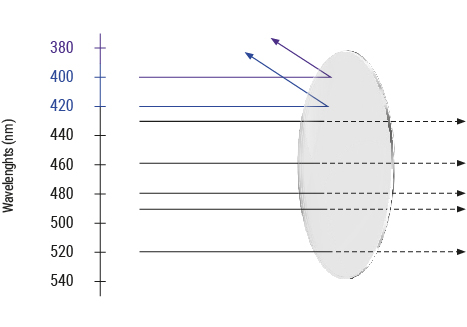 This is what makes Formula 2 Drive lenses so original
The combination of three parameters, design, material and anti-reflection coating creates an ideal lens for driving which also provides excellent results for everyday use. The subtle tinting combined with the anti-reflection coating developed for Formula 2 Drive significantly reduces glare and enhances contrast in the case of poor lighting and weather conditions. 60% of high-energy light is filtered out by tinting and the anti-reflection coating. The minimised residual reflection on the back of the lens guarantees unrestricted, relaxed vision.
The Formula 2 Drive
Family
Increased protection against high-energy light
Approx. 10% tinting enhances contrast to optimise safety in traffic even with poor lighting conditions
Excellent optical imaging properties suitable for all spectacle frames
Thin aesthetic lenses with indices 1.6 and 1.67
Orgalit 1.6 versus Orgalit 1.6 Formula 2 Drive transmission
The transmission curves show that Formula 2 Drive filters out a significant amount of blue diffused light compared with Orgalit® thanks to a 420 nm UV filter. Together with our innovative design and the specially developed i-Protection® Blue GT, these features guarantee optimum glare protection for the eyes.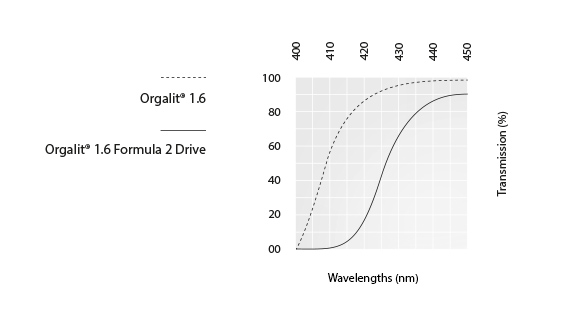 Designs
Progressive lenses
I'VISION® You / O'Design® You / O'Free® You
Orgalit® 1.6 / 1.67 Formula 2 Drive i-Protection® Blue GT (Glare Technology)
Our specialists have worked intensively to create an even wider visual field for distance area - for rapid eye movement to side-view mirrors
Increased intermediate range for a clear view of instrument panels
Optimum image quality even in peripheral areas
Enhanced image stability in case of rapid head and eye movements
Maximum precision - lens manufactured at precisely 1/100 dpt
Design comparison
I'VISION® You
Formula 2 Drive sph. 0,00, Add 2.5, progression length 18 mm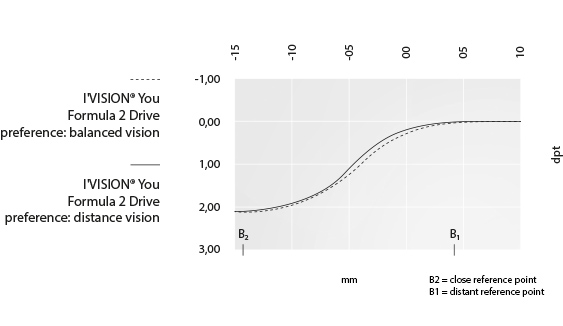 Single Vision Lenses
Orgalit® Premium / Orgalit® 1.6 / 1.67 Formula 2 Drive i-Protection® Blue GT (Glare Technology)
Best image right up to the boundary areas
Highest image stability when making fast head or visual movements even by high visual faculty and anisometropia
Enabling fast visual change for far-distance and close-distance range vision